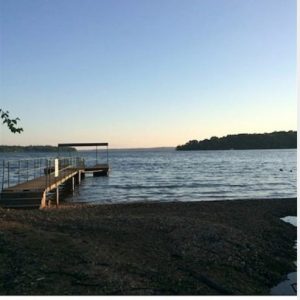 Camp Dock needs to be replaced.  Please click of details.    Let's Do This!!! KBY Dock  We are getting close to raising the funds needed for replacement of the dock.  Any extra funds raised will go into a "Camp ReVamp Fund".
Here are some pictures of a project Hopkinsville FCC youth did to raise money for the dock.  These are reusable grocery bags (hence the green Chalice on some of them), and they are selling them for $5 or a donation. FCC older youth also gladly participated in this project.  Thank you Youth of Hopkinsville FCC!!!

We welcome outside groups to come spend time at Kum-Ba-Ya.  Click here for brochure, site map and reservation request form.  Facility Use Brochure with Site Map

#KBYFunPlaceToWork!  We have 2 positions for those 21 years or older this year.  Click each for the details.
Youth Work Retreat – FREE weekend.  Click here for all the details for the April 21-22 Work Retreat.  Youth Work Retreat
Camp Kum-Ba-Ya and Camp Wakon'Da-Ho have a great summer planned.  If you want to counsel, be a staff member or volunteer we would welcome you.  Watch for ways you can support the camping program at either site.
Click here for the calendar of events at both sites.  Camp Calendar 2017
Click here for the 2017 Camp KBY application.  Camper Application Updated
Interested in Counseling?  Click link for the application. Counselor Application
Interested in being a Counselor in Training?  Click link for the application.  Counselor in Training Application
Camp Summer Needs List:  Click link for the list.  KBY Needs list 2017
Events hosted by KBY include…
A Solar Eclipse Weekend, August 2017 – click here for the Solar Eclipse Registration Packet
The American Quilters in the Spring and Fall, 2017 – click here for the 2017 Quilters Show
Kum-Ba-Ya Alternate Birthday List




Expanding our boundaries beyond Summer Youth Events
It takes more than summer youth events to make ends meet. Kum-Ba-Ya is a beautiful holy ground that we are reaching out to other groups to use year round. In order to make this happen, we need your help with some larger ticket items. If someone on your Christmas (or Birthday) shopping list really can't think of a thing they need, consider sending a gift to KBY. We will send them an appropriate card acknowledging your gift in honor of their birthday or Christmas gift. If you have a person you would love to honor or to remember with a special donation give us a call.  Click here for the list. Alternate Birthday Gift List
 Check our the most recent Newsletter: