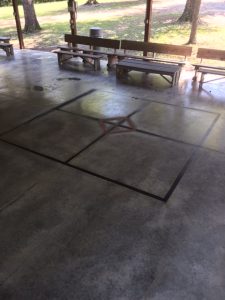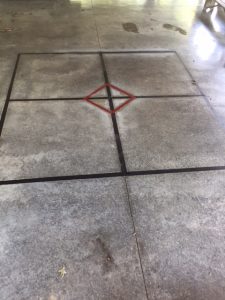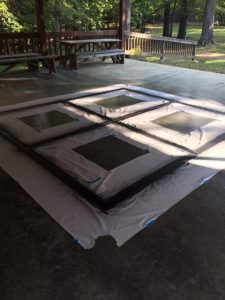 Solar Eclipse Event at KBY was great!  50 people from Arkansas, Kentucky, Canada, Ohio, Illinois.  Here are a few photos of the weekend.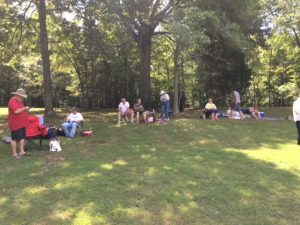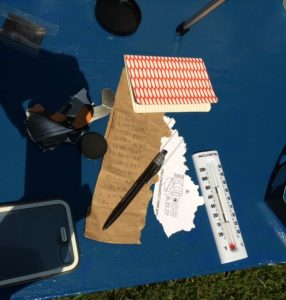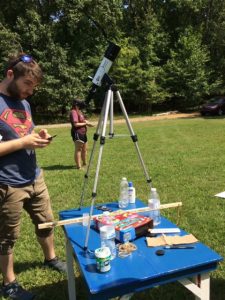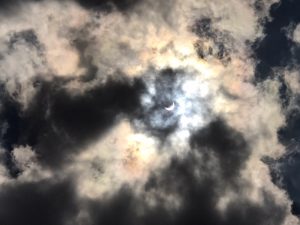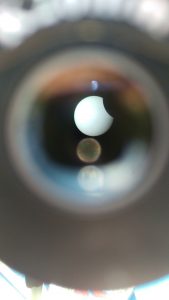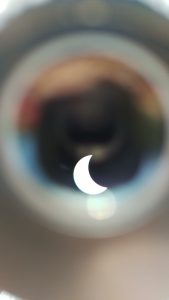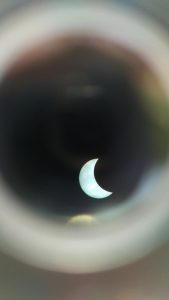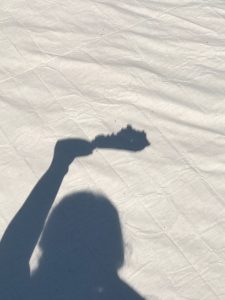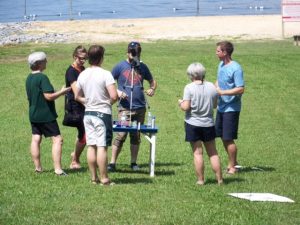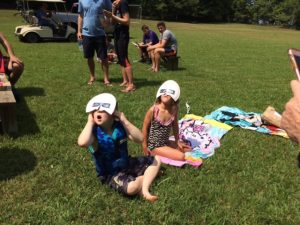 In 2017 we have lots of wonderful work done at Camp KBY.  Thank you for all your hard work the last month and half.    Here are a few highlights:
Staff Cabin Updates: Thank you for all the work – Bill Roberts, Kerry Frazier, Tim Evans, Terry Harrell, Terry Landon, Bruce Dobyns and Gayle Robbins have worked on this remodel.  As of May 14, Cabin 2 and 3 need just a few windows washed and they are ready for our summer staff.  These men have put in hours to this project. Again, THANK YOU!!!
Trees have come down – Thank you Dan McKeel and Rob Clause.
New stainless steel table being put together – thank you Rachel Gearhart.
New door locks on staff cabins – Thank you John Maddux
Rock delivered and spread out – Thank you John Maddux and Dan McKeel (for the equipment) and to Terry for the grading.
Cabins have been cleaned out – Thank you Rick Loader
Mattresses have been cleaned and ready to go into the cabins. – Thank you Mark Dycus and his grandchildren
Gutters on the Lodge and the Pavilion have been cleaned – Thank you Kerry Frazier
The Pavilion Fireplace mantel has been stained and the chimney has been repaired – Thank you Kerry Frazier
Leak on the Lodge fixed – Thank you Kerry Frazier
Signs at the beach have been installed – Thank you John Maddux
Windows washed all around – Thank you Atnip Family.
Freezers and refrigerators cleaned inside and out – Thank you Rick Loader
The following things were done by several of us; Susan Roberts, Rachel Nance Woehler, Larry Childress, Dennis Gray,  Joyce Johnston, Haley and myself…
The dish room has been cleaned top to bottom and painted in areas needed.
The kitchen and pantry cleaned and painted top to bottom.
Dishwasher cleaned and looks brand new.
The girls bathroom has been painted and looks wonderful  We did install an additional paper towel holder on the sink base.  This makes it handicap accessible.  We also moved the storage cabinet to a different wall making it wide enough for a wheel chair to enter the girls bathroom.
The craft room has been organized.
The griddle looks brand new.
Salad bar looks brand new!
Counters washed in the dining hall.
Thank you all for the great work!!!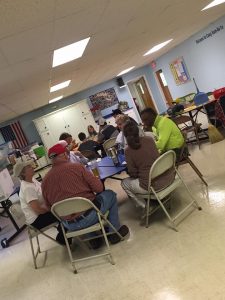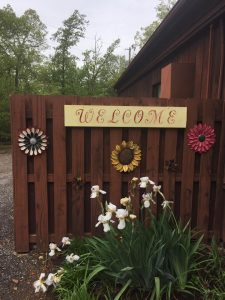 Kum-Ba-Ya Alternate Birthday List
Expanding our boundaries beyond Summer Youth Events
It takes more than summer youth events to make ends meet. Kum-Ba-Ya is a beautiful holy ground that we are reaching out to other groups to use year round. In order to make this happen, we need your help with some larger ticket items. If someone on your Christmas (or Birthday) shopping list really can't think of a thing they need, consider sending a gift to KBY. We will send them an appropriate card acknowledging your gift in honor of their birthday or Christmas gift. If you have a person you would love to honor or to remember with a special donation give us a call.  Click here for the list. Alternate Birthday Gift List
 Check our the most recent Newsletter: